Heavy Duty Joist Hangers
Heavy Duty Face Fix Joist Hangers are produced from 2.5mm thick pre-galvanised mild steel and in accordance with the specification given in the BS EN 10327:2004 DX51D+Z275. They can be mounted with timber to timber, concrete or masonry fixings. They can be welded to a steel member or fixed with appropriate bolts to masonry.

CHARACTERISTICS
All hangers come up to 150mm deep and 95mm bearing,
M10 & M12 bolt holes for added versatility,
With open or concealed flanges,
Available also in stainless steel.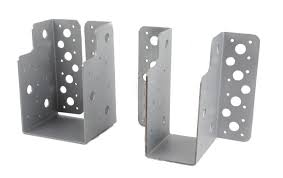 FIXING INSTRUCTIONS
In order of avoiding rotation, the hanger should exceed the half of the supported member depth.
Can be fully nailed, coach screwed and bolted.
Can be welded to steel members.
The safe working load also depends on the block strength and used fixings.
CHOOSE MANUFACTURERS or scroll down to see products
Showing 1 to 1 of 1 (1 Pages)