Angle Brackets and Framing Anchors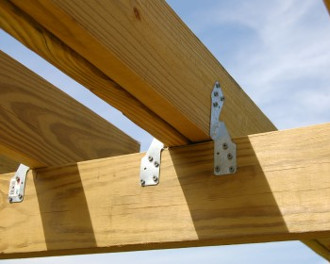 A full range of sizes general purpose brackets - galvanised steel, stainless steel - are available to suit all applications. They are used when one member crosses another or one member is trimmed into another. Made from galvanised steel EN 10346 DX51D Z275. Grade 1.4301 austenitic stainless steel to EN 10088-2.

Framing anchors are used for stronger nailed joints and economical secondary connections in timber framing that is an effective, versatile and economical method of providing strong, mechanical joints.
Angle bracket is a general purpose connector where members cross each other at right angles. Common applications include purlins to rafters, bracing etc. They are used to provide transverse restraint to trusses over non-load bearing internal walls without restricting vertical movement. Angle brackets should be used to fasten perpendicular intersections to prevent lateral movement between members and help provide rigidity to joints. They can also be used in shelf support details on top chord bracing to connect the blocking piece to the trusses.
Heavy duty brackets with strengthening ribs on bend to give added rigidity,
Brackets ideal for connecting hand rails available in galvanised and stainless steel for outdoor use.

Angle brackets can also be used for connecting:
Connecting rafters to plates
Connecting trusses to plates
Connecting purlins to trusses
Joist trimming
Connecting bracing to studding
Connecting purlins and joists to laminated beams
When making home repairs and renovations, angle brackets are essential. They can be used to put up shelves at home; an angle bracket can help the shelves carry heavier loads. A heavy angle bracket, on the other hand, is used as a construction bracket.
Truss Clips and Framing Anchors

Trusses and rafters can be secured to the wall plate by skew nailing, but there is a danger of skew nails disturbing the joint, or being deflected by other connectors, which would result in an ineffective joint. Skew nailing through the connector plate at the heel usually results in splitting of the timber in the bottom chord, weakening one of the most heavily loaded joints. Its much safer and effective to use framing anchors or truss clips. It is strongly recommended that the truss clips are used, whether or not it is specified on the drawing. All metalwork, truss clips, framing anchors including nails should be galvanised to prevent corrosion.

Truss clips hold truss or rafter to the wall plate, while framing anchors connect purlins to trusses, various trimmed openings and elements in the ceiling joist structure and to studding.
Framing Anchor Installation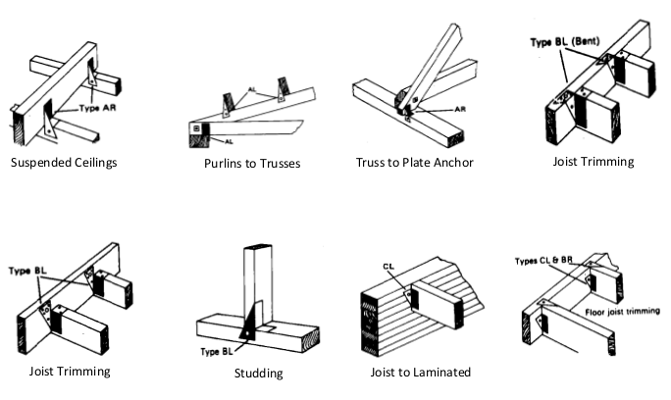 There is also an Universal Anchor that can be bent on site to suit all applications, Specially bent anchor that has a large hole to permit the fixing of covering surface materials.

CHOOSE MANUFACTURERS or scroll down to see products
Showing 1 to 7 of 7 (1 Pages)