Beads and Mesh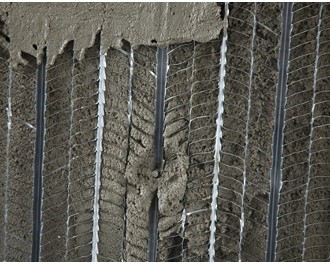 High quality galvanised, stainless steel and uPVC angle beads, mesh beads, render stop beads, thin coat plaster beads, movement beads, expanded mesh laths, rib laths, soffit vent mesh, drywall tapes etc can be bought online from Insulation Shop.
These beads are used to protect and reinforce the plaster in most vulnerable areas, corners at its weakest point on internal and external walls and plasterboard. Render stops are used to create the beginnings and ends of the plaster area. Fibreglass mesh, expanded metal laths, rib laths are used to reinforce the render in internal and external walls, ceilings, etc.
To get a clean straight corner on a masonry wall, partition wall, you need to prepare the external corners with angle beads. They give you a cleaner finish and also provide strength and prevent chipping.

Angle Bead
is used to provide a true, straight corner to protect and reinforce a plaster or a render application in its most vulnerable area. In external applications. Available in galvanised steel, stainless steel and uPVC. In areas of regular exposure to moisture, heavy condensation or persistent dampness, stainless steel or uPVC should be used.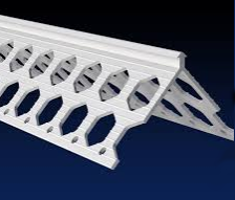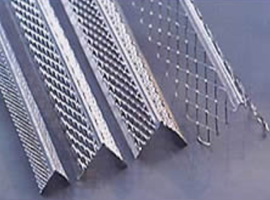 Galvanised Mini Mesh Bead has a greater area of expanded metal to give a better hold for internal thin-coat plaster application. It is used to reinforce and protect one-coat finish or plaster or corners at its weakest point on internal walls and plasterboard.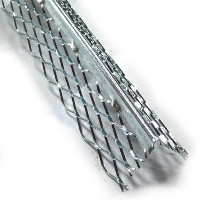 Skim Bead for use on plasterboard or aerated blocks for standard single coat plasterwork for internal thin-coat plaster application, used to reinforce and protect plaster on corners and reveals at its weakest points.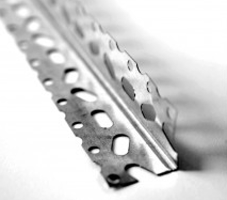 Fixing instructions
Ensure the surfaces of the external corners are clean.
Measure the height of the external wall and if there are any windows, their height and length as well. Cut angle beads to these measurements.
Cut the angle bead on a back angle so that the edges dont catch on the brickwork or the eaves.
Mix the plaster adhesive until it has the good consistency. If it is too runny add more adhesive, if it is too dry add more water.
Apply the plaster adhesive about 2mm thick and 25mm wide, either side of the corner. Apply it from the top of the wall to the bottom.
To fix the angle bead to the corner, push it into the bed of plaster. Use a slight up and down motion to help it sink in. Ensure there aren't any hollows or bumps in the bead.
Leave it to dry for five minutes. Then use your trowel to remove the excess adhesive down the bead. Flatten off the excess by angling the trowel slightly and pushing the adhesive away from the bead, on both sides of the bead.
Leave for 24 hours to dry completely.

Plaster Stop bead provides a precise, clean edge to plaster at a door or a window frame, reinforcing the edges of the plaster. In external applications and in areas of regular exposure to moisture, heavy condensation or persistent dampness, stainless steel or uPVC should be used.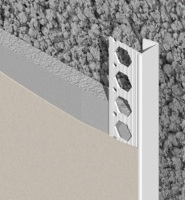 External Render Stop Bead (bell cast bead) is used to form a neat bell shaped edge at the bottom of an external render finish, thus protecting the edge and acting as a run-off for when rainfall occurs. Galvanised render stop bead can be used only in sheltered areas. A stainless steel or uPVC render stop bead should be used in external applications and in areas of regular exposure to moisture, heavy condensation or persistent dampness and coastal areas. Plaster depth 16 to 20mm.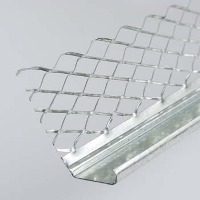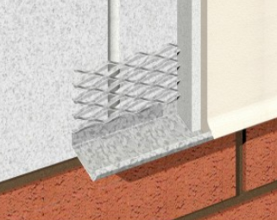 Fixing instructions
Check if the substrate for irregularities. These should be dubbed out with mortar which is then allowed to set hard prior to application of beading.
Cut beads to the required length.
Trowel on render or adhesive mortar onto the background surface.
Set render stop beads into the mortar and push into reveals against window and door frames.
Once the beads are aligned, apply render over the wings and allow to set.
Fix bell cast beads onto an adhesive mortar to prevent slipping. Alternatively, nails or hammer-in fixings can be used along the length of the bell cast bead every 300-600mm.
Leave a gap of 8-14mm between bell cast beads at a movement joint, where available.
Render is then applied to the required depth.
Make sure to push the render into the edges of the beading to eliminate air pockets.
The render should be made level with the edges of the beads to get a neat finish.

Alkaline Resistant Render Mesh is a reinforcing mesh made from woven fibre-glass yarns and coated with an alkaline resistant latex to prevent the alkaline present in cements from degrading the glass fibre. It is an ideal reinforcement for render, even where cracking can be seen and allows previously uneven masonry substrate to be rendered.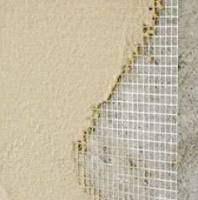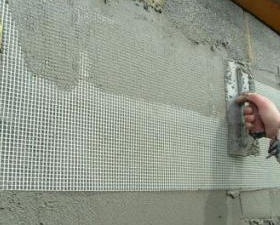 Fibreglass mesh is designed for better grip on the rendered wall and supporting the render layer. It protects the finished surface from cracks and improves the mechanical strength of rendered wall. It has resistance to corrosion, anti alkali and acid. Fibreglass reinforcing mesh can be used in internal plastering and external rendering on solid surfaces and over insulation sheets on the base layer. It is embedded into the base layer in such a way, so it would be completely embedded or locked in. Over the base layer the finishing render is applied. Fibreglass mesh should be installed with an overlap.
Fixing instructions
Fibreglass mesh should be installed into the wet render, using the back of a steel trowel and pushed in, so that it sits in the top third.
Meshes should be continuous, and should have a minimum 100mm lap with the adjacent mesh.
Any meshes that are integral to beads and trims should also allow for 100mm lapping. This ensures strength and continuity of the render.


Expanded Metal Lath Sheet is used as a key for internal and external plaster on suspended ceilings and walls and for encasing steel columns and beams, assisting in the protection from fire. In external applications and where there is regular exposure to moisture, heavy condensation, persistent damp or concern that drying out times may be extended Stainless Steel should be used.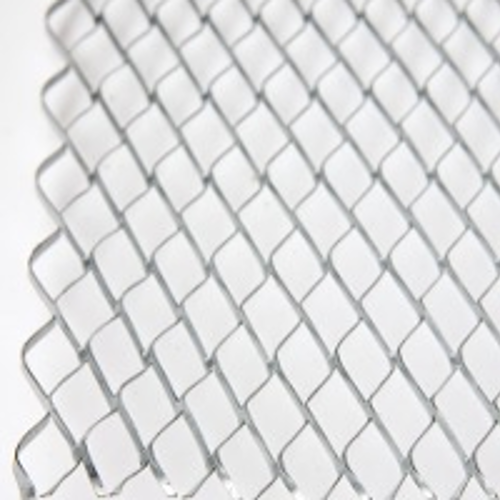 Fixing instructions
Fix with the long way of mesh running from support to support, with all strands sloping downwards and inwards from the face of the coating.
Always ensure when fixing that allowance is made for overlapping sheets by 50mm lengthways and 25mm widthways.
Could be fixed with plasterers nails & screws with washers or staples at 100mm centres on timber. Start at the centre of the sheet and work out towards the edges. Always fix at an angle to allow lath to be pulled tight.
1.2mm tying wire at 100mm centres can be used on metal frames. Tie by creating a hairpin shape with the wire, then pull tight and twist. Take care that cut wire ends are not close to plaster surface.
Can be fixed to a solid background using a suitable fixing with an integral spacer/washer and a large diameter headed screw/nail that will keep the sheets firmly in place.


Rib Lath sheet is stiffened by longitudinal ribs for use on ceilings and partitions and as an anti-crack control. In external applications and in areas of regular exposure to moisture, heavy condensation or persistent dampness, stainless steel should be used.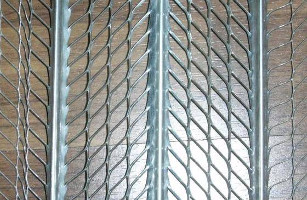 Fixing instructions
Gloves should be worn as edges will be sharp.
Ensure that compatible corrosion resistant fixings are used, i.e. do not used galvanised fixings for stainless steel or vice versa.
Rib Lath is fixed so that the tip of the rib is placed against the supporting background.
The rib of the sheet should run at right angles to any supports.
Ensure that the sheets are overlapped by a minimum of 50mm end to end and by 25mm widthways and that the ribs are nestled together.
Rib Lath is fixed at each rib to timber supports using plasterers nails, screws or staples.
Rib lath is fixed at each rib to metal support using 1.63mm galvanised or stainless steel tying wire. When joining Rib Lath sheets overlap the edge ribs and tie the edges with 1.22mm tying wire at 150mm centres.
Rib Lath can be fixed to a solid background using a suitable fixing which holds the ribs firmly against the background.
Where sheets are installed vertically, fixings should be positioned through all ribs at 600mm centres to ensure adequate stability.

Expanded Mesh Lath Coil is produced for brick and block work reinforcement. Primarily usage is to prevent cracking. Availble in Galvanised steel EN 10346 DX51D Z275 and Grade 1.4301 austenitic stainless steel to EN 10088-2. Overlap by a minimum of 75mm when joining two lengths together.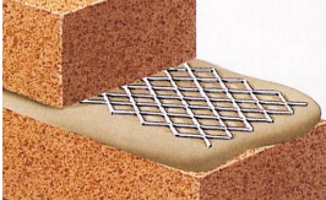 The expanded metal lath reinforcement reduces the detrimental effects of vibration and changes of temperature. Its application gives brickwork increased resistance to tensional stresses. The coil mesh embedded in the brickwork joint resists the tensile stresses where settlement occurs. The thin expanded metal coils with big diamond openings are easily incorporated into mortar course. Comes in coild for easy handling.
Fixing instructions
Fix into mortar between brick courses leaving 25mm clearance from face of brickwork.
All joints require an overlap of at least 75mm.
The mesh can be laid every third brickwork course for best reinforcement.


Hex Mesh Netting is used for floor screed reinforcement, wall plaster reinforcement and roof insulation. Hot dipped galvanised prior to weaving. Gloves should be worn as edges will be sharp. Can be used for fencing.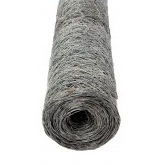 Hex mesh is formed by twisting two adjacent wires at least four times, forming a strong honeycomb mesh structure, therefore has a high strength and durability. Even if a place is cut off, it will not lead to the entire hex mesh structure destroyed. Its hexagonal shape prevents the formation of internal stresses. It is convenient for mounting on curved and angled surfaces. Hex mesh is perfectly suited for reinforcement plastering, waterproofing, leveling floors and render work. This mesh effectively prevents plaster layer drying out and cracking.

Stainless Steel Soffit Vent Mesh is for use in new build and refurb properties. It is used over vents in soffits to allow air flow to prevent condensation but prevents access to birds and insects.


CHOOSE MANUFACTURERS or scroll down to see products