How to Mount and Stabilize Roof Trussed Rafters
29 Oct

0 Comment(s)
2261 View(s)
How to Mount and Stabilize Roof Trussed Rafters
Trussed rafters have proved to be the efficient, safe and economical method for supporting roofs. They are usually manufactured by specialised timber engineering companies. To get the most out of them, they should be mounted correctly and stabilized. The needed truss hangers, truss shoes, truss clips, restraining straps, bolts, nail plates, nails etc., can be bought at competitive prices on-line from Joisthangers.
Trussed rafters are made from structural grade timber of the same thickness, joined together with punched metal plate connectors. They provide support for the roof fabric of a building, room ceilings and, in some cases, floors. They are generally spaced at 600 mm centres or less. They take the place of the common rafter in a traditional cut roof, hence the term trussed rafter. They can be erected rapidly on site and are suitable for a wide range of building types - domestic buildings, commercial and industrial buildings. When correctly mounted in a building, the trussed rafters provide a structure in conformity with established building codes.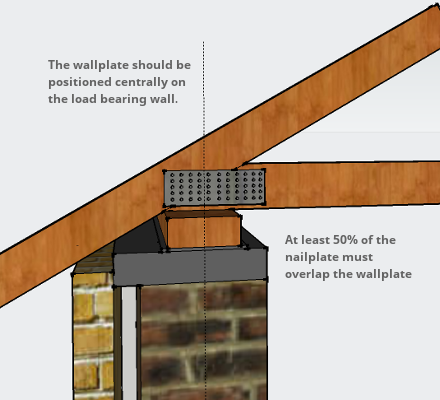 Trusses are usually spaced at 600mm, but can also be positioned at 450mm or 400mm to support heavier loads.
Careful erection, fixing and strapping is essential for trussed rafters to provide an effective stable roof and a sound platform for roof cover. Most fixing material can be bought on-line from joisthangers.co.
Wall plates should be bedded to line and level using straps to hold them. Wall plates should generally be not less than 3m lengths. Shorter lengths should extend over at least 3 joists/rafters or trusses. Wall plates should be joined using half-lapped joints at corners and in running lengths.
The holding down straps should be fixed to the wall plate at maximum 2m centres. If the strap is not turned into a bed joint, it should be fixed to the wall with at least four screw fixings.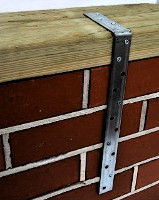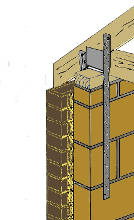 The wall plate is anchored with a vertical restraint strap.

Vertical restraint strapping is required, if the location of building construction is wind stressed. In areas of higher wind load, the design may call for direct strapping of rafters, trussed rafters to the walls. The tops of straps should be nailed to the wall plate, and/or the rafter depending on the design.
When fixing to the wall, it is critical that the straps are long enough to run over the specified number of bricks/blocks, and that at least two of the fixings engage the last full brick/block at the base of the strap.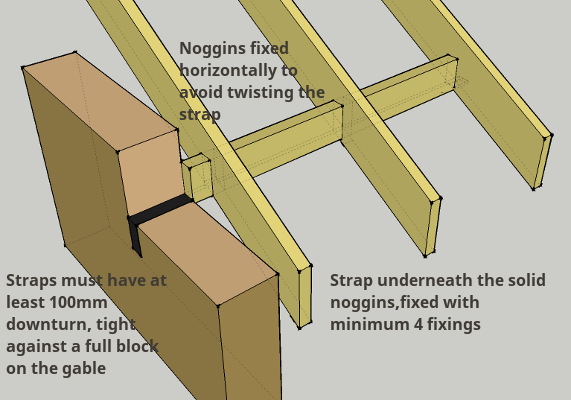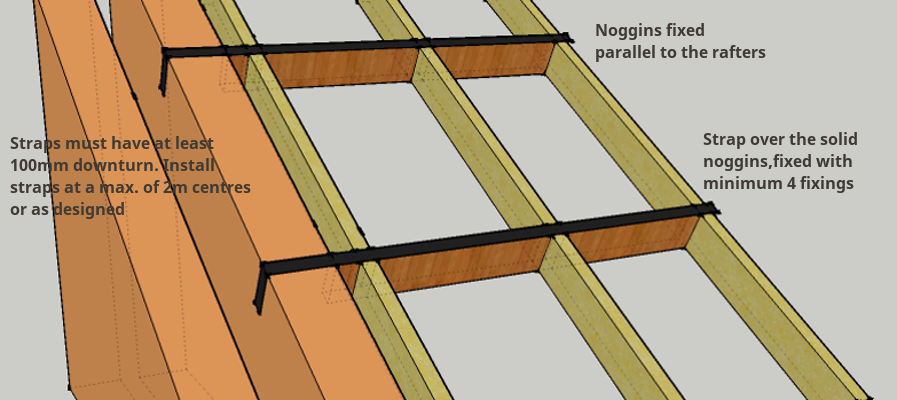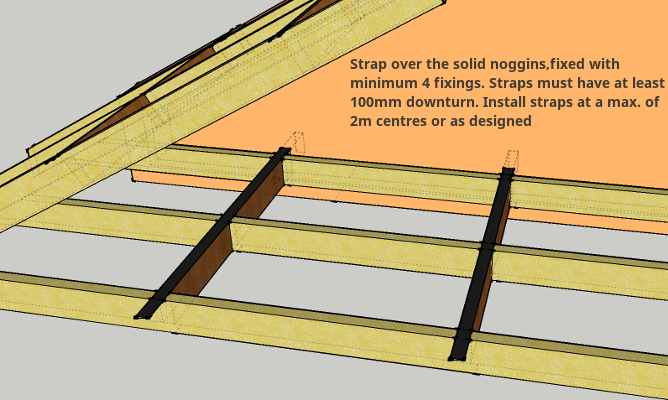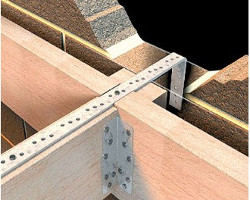 Bottom chord of the trussed rafters are restrained by
galvanised straps
at a max. 2m centres. At least 3 trussed rafters are restrained this way.