How To Stitch Cracked Walls Using Crack Stitching Kit
31 Oct

0 Comment(s)
1493 View(s)
How To Stitch Cracked Walls Using Crack Stitching Kit
When movement happens in brick walls, beyond it can withstand structurally, cracks happen in walls. Cracks happen when the brickwork is overstressed or at places, where it is least restrained -- door and window openings and at corners. The reasons could be the movement of the ground under the foundations, the extra load above, say on lintels, beams, or the moisture content of the walls, fluctuations of temperatures. Some cracks are active, some are passive and some are cyclic.
A crack should be monitored for a period of time to determine its cause and to find the appropriate method of repairing it. If the cracks in walls are increasing in size and/or length -- active cracks, you should consult a structural engineer. If the cracks are passive -- not increasing in width and length, or cyclic -- cracks that open and close seasonally, and are less than 5mm in width can be repaired by a brick stitching techniques to improve the tensile and flexural strength of the wall.
Earlier days, rebars were used as the stitching bar, but nowadays helical bars are used for such jobs. Helical bars are made by a cold worked manufacturing process and has twice the tensile strength of a rebar. The high tensile helical bars combine great axial strength with rotational flexibility to withstand building movement whilst ensuring reinforcement of the cracked wall. The stitching helical bars are extremely easy to install and cause minimal disruption. Crack stitching is a quick, highly reliable and fully concealed method of reinforcing cracked walls.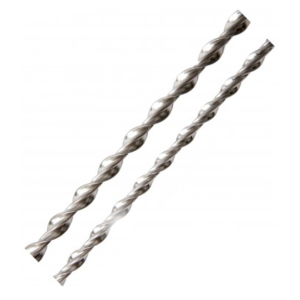 Helical bar installation is straight forward. A horizontal channel is cut in the masonry in the bed joint, usually at 300mm intervals along the height of the wall and the crack height. The slots are cut 500mm extend away from the crack on both sides. The slots are then flushed with clean water, prior to the installation of a high performance non-shrink cementitious grout. Helical stitching bars are simply pushed into the grout, fully covered in the grout. Use the finger trowel to disguise the slot.

The 6mm Stainless Steel Helical Bar Crack Stitching System is fully certified kit, that consists of the following elements.
5nos 6mm x 1000mm Helical Bars,
1no 1.5L tub of Helical Grout,
1no Crack Stitching Gun,
1no Black Plastic Nozzle,
1no Mixing Paddle,
1no Finger Trowel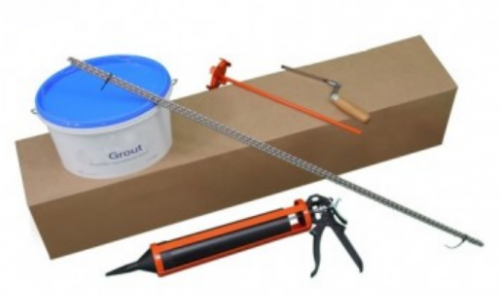 You can buy Crack Stitching Kits online at competitive prices at Buildersmetalwork.com